I remember the electricity I felt when I met Chris—could he be more handsome or sweet?  Gosh, he was a good dancer.  He talks kindly of his mother (important!)  He was humble, interested in this unusual prairie girl, and had a sense of humor I had never experienced that kept me on my toes.  I wanted more of him, even as he drove away down 400 miles of interstate highway.  What I didn't know at the time was that I was falling over the edge in love for the first time in my life.  There were three other times when I stood, with Chris, on the precipice, staring into the face of a newborn child, and I was swept away, over the edge in love, for no rational reason—when you know you are either in the realm of crazy or the sacred realm of Spirit.
We traveled 400 miles of interstate highway last weekend to celebrate Chris' brother and sister-in-law and their 50 years of marriage!  How does one go from falling over the edge in love to celebrating 50 years together?!  I was also fortunate to once again stare into the faces of my first- and second-born and feel the electricity of the all-consuming love parents have for their children, even when they are adults.  My spirit sang its song of joy.
The day before the anniversary party, we took to the trails like we had done so many times when the kids were little.  We explored Parkville Nature Sanctuary on a blue-sky, hot and humid day. (All relative when coming from Texas and Minnesota to Missouri!)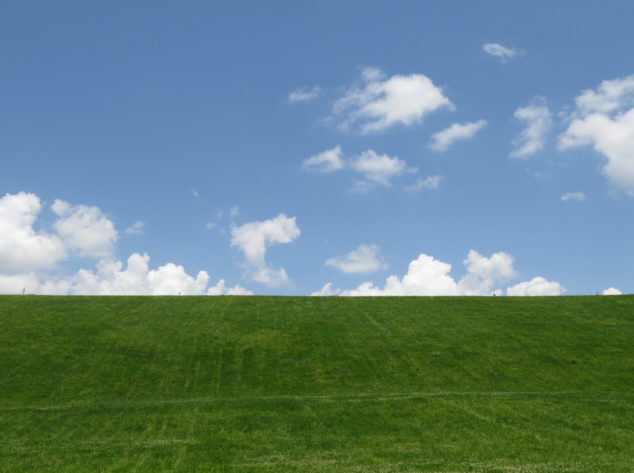 Most of the 115 acres of the Sanctuary and White Alloe Creek Conservation Area is forested, along with streams and wetlands.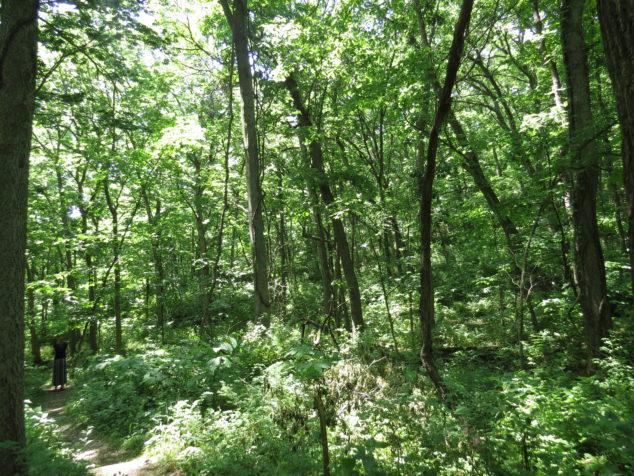 We found some little treasures along the trail—bright red fungi and a wise old turtle.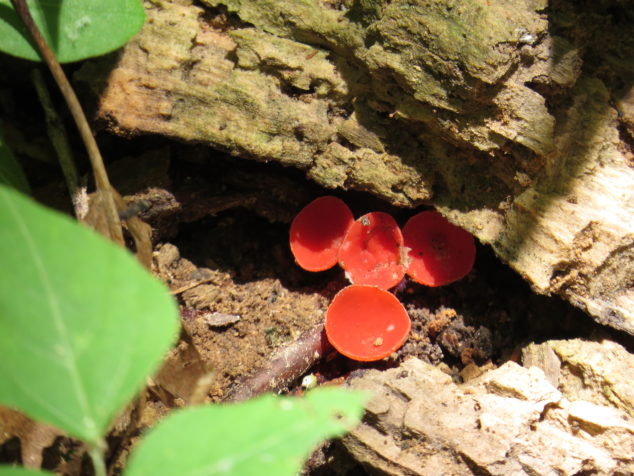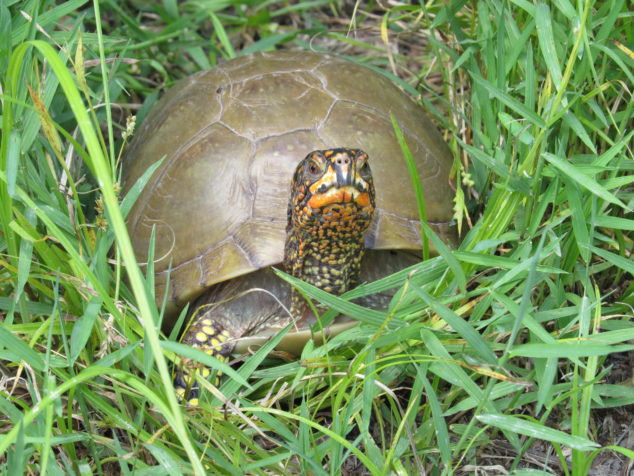 But the main attraction of the Sanctuary was the waterfall.  Water cascaded and tumbled over rocks, bubbling with activity in places, then calmly pooling in others.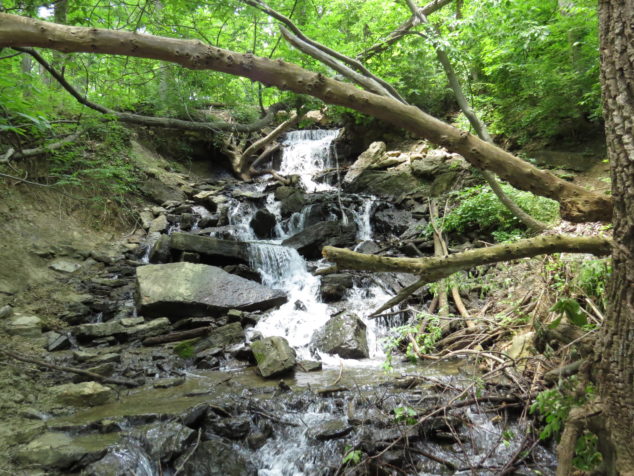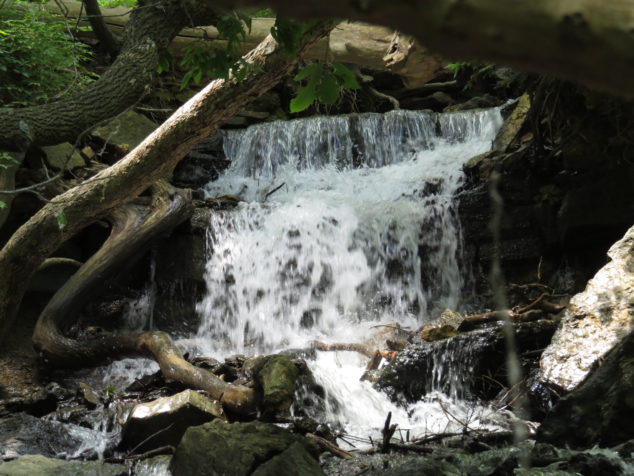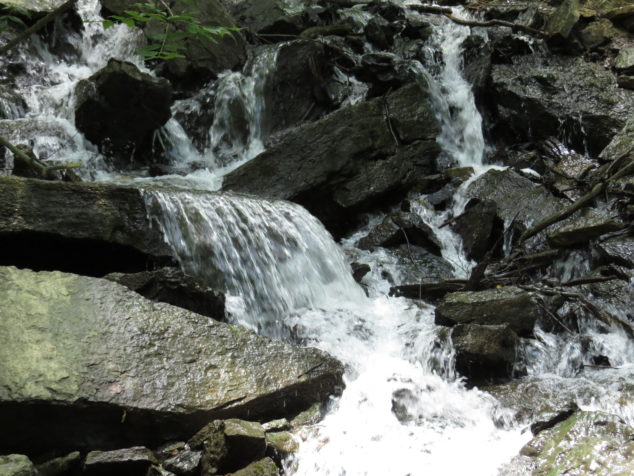 Downstream from the main falls was a bridge where a mom and her kids were watching a couple of Northern Water snakes in the swift current.  The female snakes are much larger than the males and both get darker with age.  Gestation is 3-5 months with a single litter of 30 live snakes in August to October!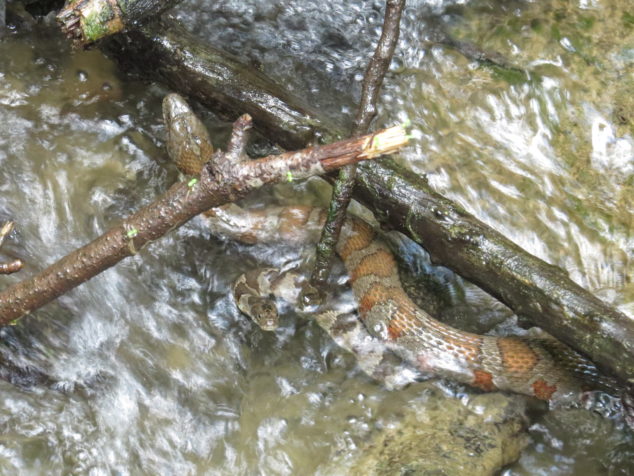 The female climbed back up a small debris dam as the male washed down over more rocks and falls.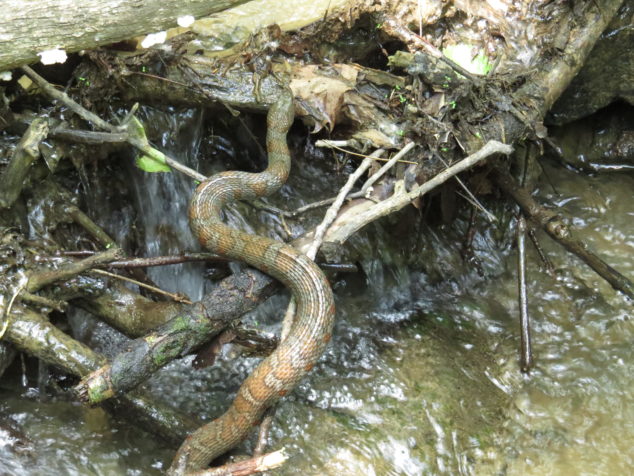 Nothing says 'beware' or 'stay away' like this tree.  Honey Locusts have frondy branches with small leaves that turn a brilliant yellow in the fall.  The spring flower is strongly scented, and the fruit is a flat pod, 6-8 inches in length, with an edible pulp that encases the seeds.  Honey Locusts are hardy, resilient, and fast-growing.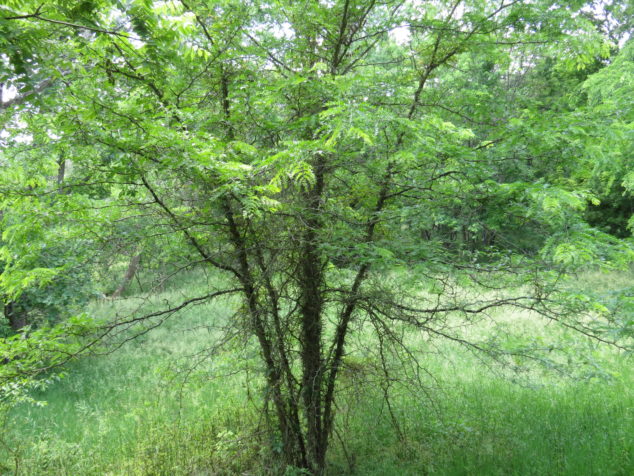 The trunk and branches, however, are covered in huge thorns that negate the positive qualities of these trees.  Luckily, cultivated thornless varieties have been established.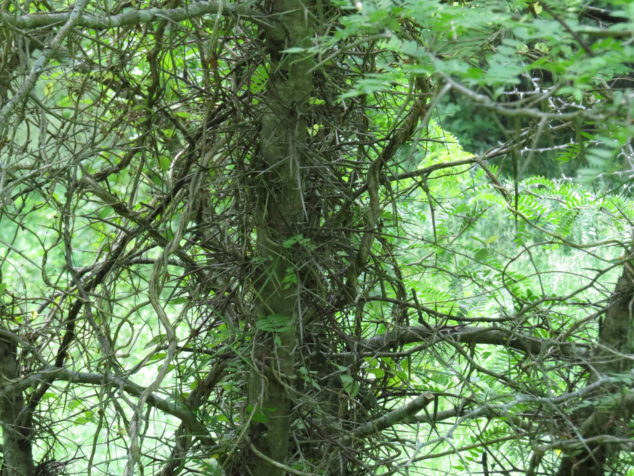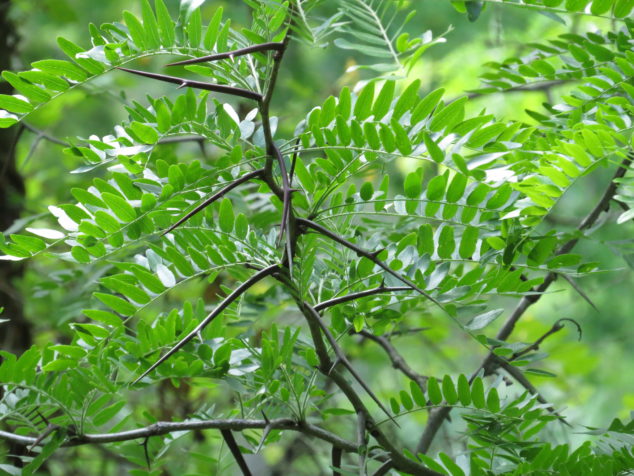 We all stand at the precipice, at the top of the falls, at some points in our lives.  The air is electric, and the water is urging us forward.  Things look pretty beautiful from our dopamine- and serotonin-saturated brains.  It's easy to fall over the edge in love.  At first, falling over the edge is beautiful and effervescent and carefree—until we hit some rocks, and we lose our way.  Until we encounter snakes and things that scare us.  Until we are tangled up in a mess of thorns that we didn't 'see' until it was too late.  So how do we avoid a false positive for happy-ever-after?  What gets us through those tough times?  What keeps us connected to the things that matter?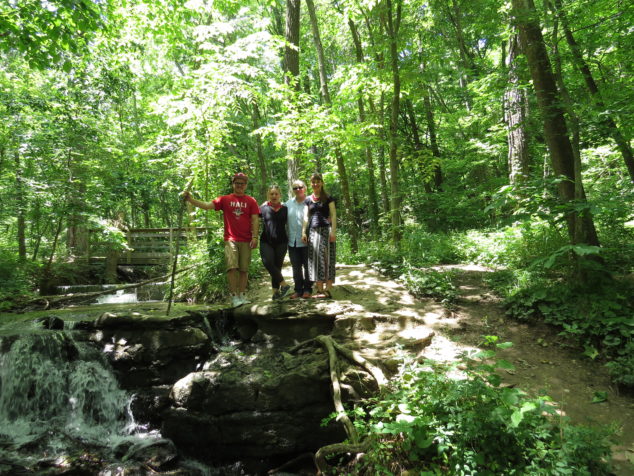 Sanctuary.  Walking stick.  Bridge.  Sanctuary is a sacred or holy place, a place of refuge.  It is for protection, peace, growth, faith, and hope—qualities that sustain us over a lifetime.  Walking sticks are used to more easily navigate a tough trail, to keep us safer, to help us out.  There are many times in the span of 35 or 50 years of marriage when we need something or somebody to help us get through the tough spots.  Bridges allow us to move from one side of something to the other side across a divide that may seem impassable.  Love is a bridge—the enduring, respectful, committed, treasure-filled type of Love when you know in your heart and soul that you are in the sacred realm of Spirit.
last photo by Chris