I had high expectations of Monday's eclipse.  The media had prepared us well with scientific information, beautiful illustrations and photos of previous celestial wonders, and Amazon had plenty of viewing glasses to purchase.  The Great American Eclipse was to make its way across the heart of our country in its totality.  Minnesota wouldn't see complete darkness, but an almost total eclipse is exciting, nonetheless.  The sun was shining on my Monday morning walk…then the clouds rolled in.  As E-time approached, thunder rolled and rumbled, and rain fell, along with my high hopes.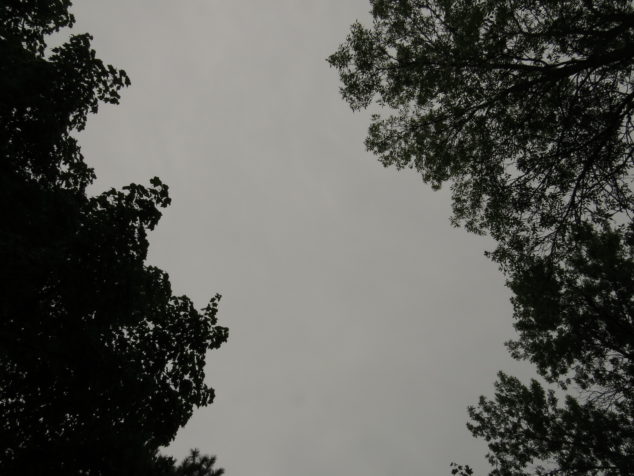 One of our Bluebirds of happiness flew to the Maple just outside the window, perching on the side of the tree, reminding me that blue skies would come again.  (Tuesday's sky was blue and cloudless.)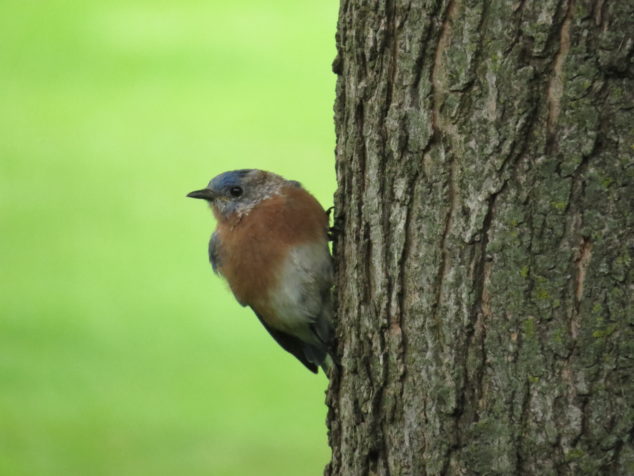 Even in the midst of my dashed eclipse expectations, there was tropical beauty right outside my door in the rain—a banana tree and the pretty pink flowers of Mandevilla.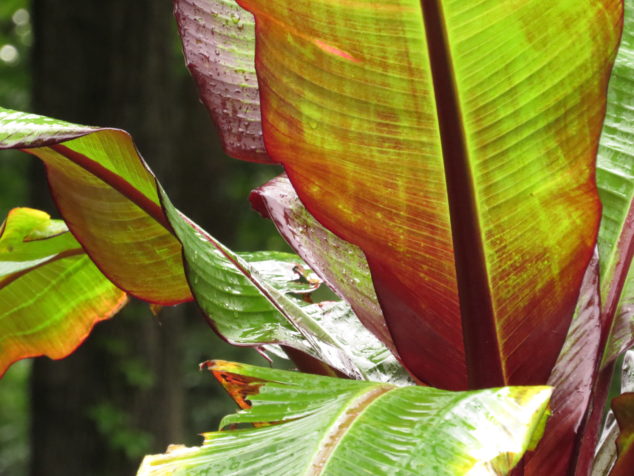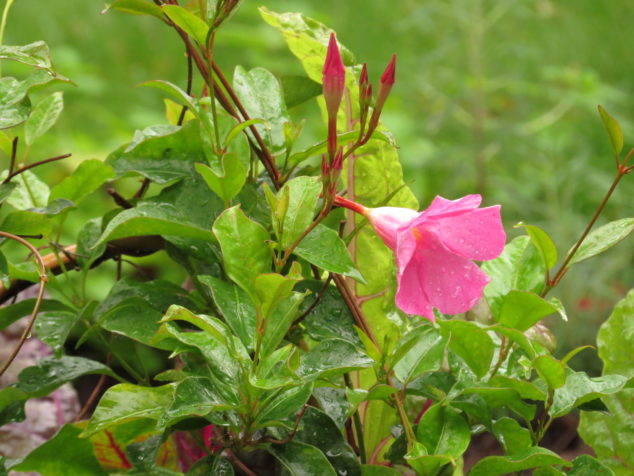 Beyond the hype and excitement of the eclipse this week was the reality of the waning days of summer.  First day of school pictures filled my Facebook feed.  Cooler than normal temperatures necessitated bringing out the fleeces and sweatshirts.  The tomatoes are finally ready to eat!  The apples are turning red.  Sumac leaves are beginning to turn crimson.  Wild plums are ripening.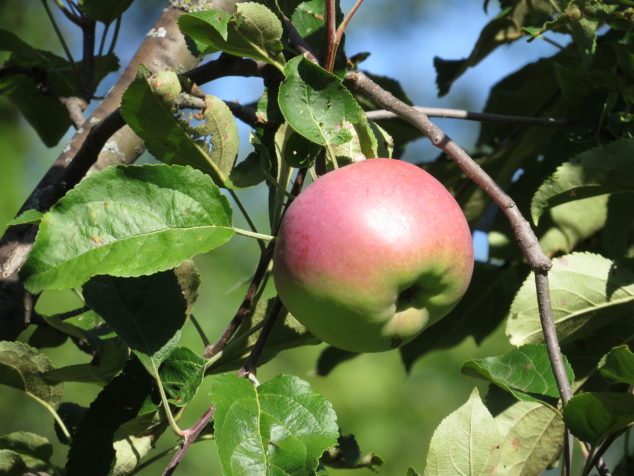 And our first ever hazel nuts are forming under the curved leaves and inside the fringed husks!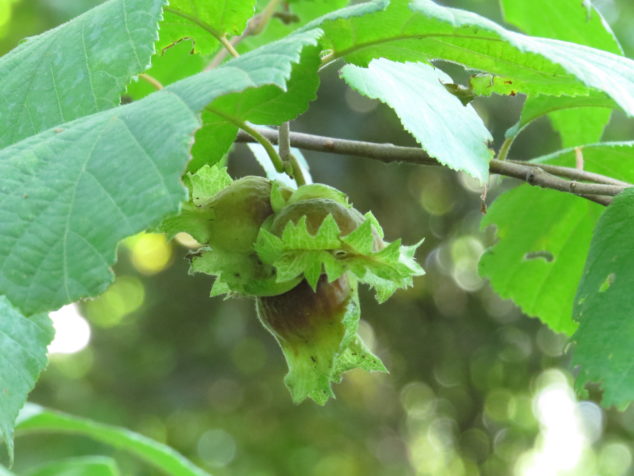 I never say summer is sweet on the humid, hot days (I mean, what do I expect?!), but as August winds down and Summer Sweet blooms and releases its fragrant scent, I am reminded that summer is indeed a sweet time of year.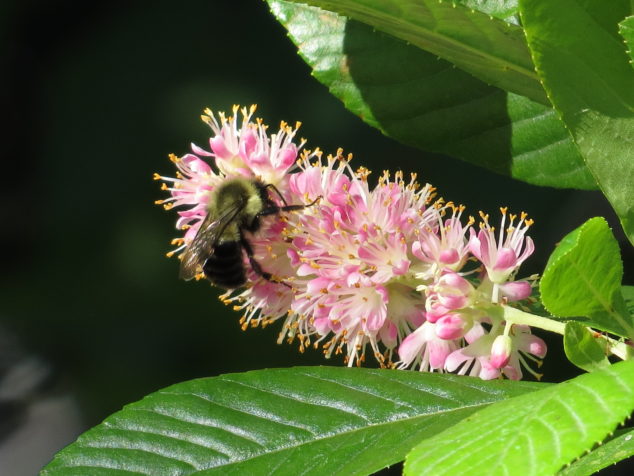 On the other side of dashed expectations and humid-drenched disappointments is surprise and possibility.  What is eating our Milkweed?  Monarch caterpillars, of course.  Not this time!  The hungry, similar-colored caterpillars are the larval stage of the Milkweed Tiger Moth (a very drab, gray-colored moth.)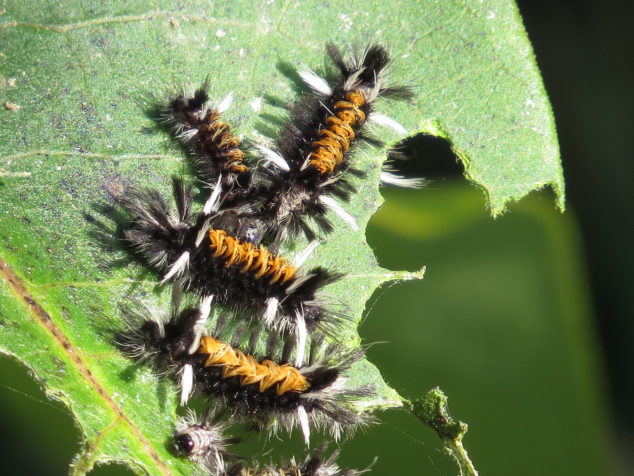 And look at this delicate web of water droplets I found in the grass below the milkweed!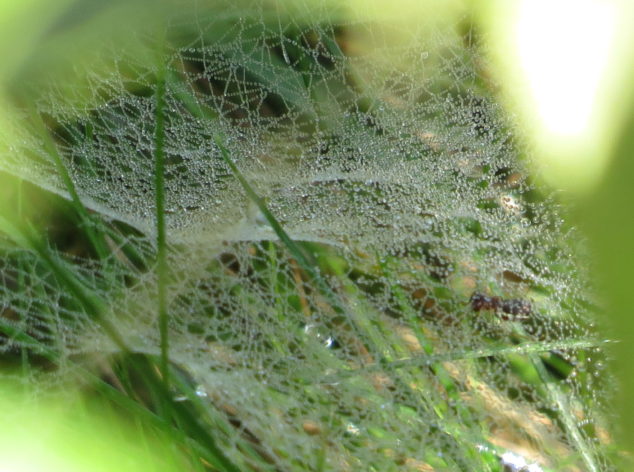 At the junction of old and new soil and grass around our patio, a fungus grew that looked like a worn, well-oiled leather catcher's mitt.  Where did that come from?
Then there is the delicate surprise of a common object seen in a different light—the bird's nest bundle of seeds of Queen Anne's lace and a pincushion center of Black-eyed Susan.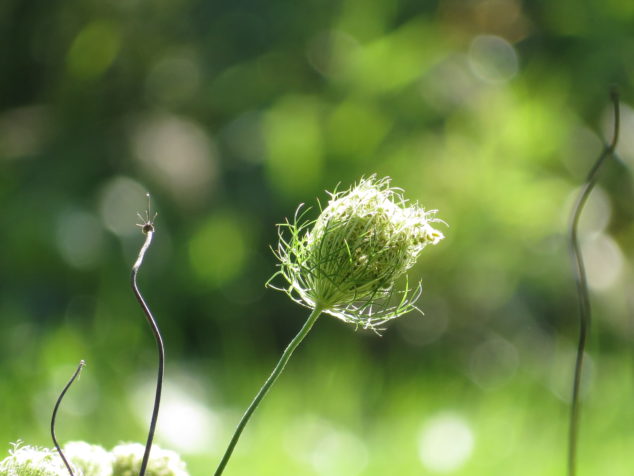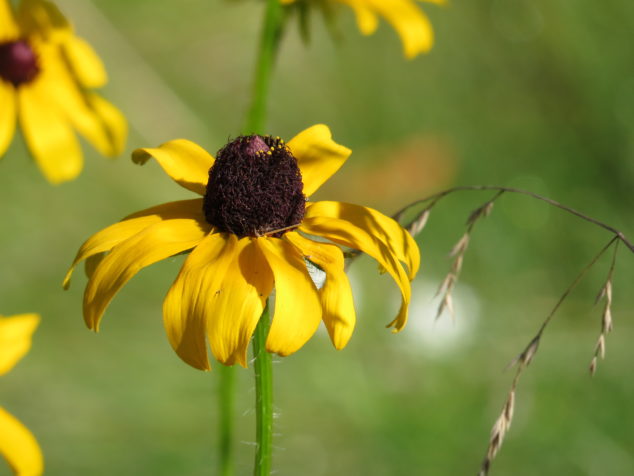 There's a book titled Expectation Hangover by Christine Hassler.  I haven't read it, but she defines Expectation Hangover as "the myriad of undesirable feelings or thoughts present when one or a combination of the following things occur: a desired outcome does not occur; a desired outcome does occur but does not produce the feelings or results we expected; our personal and/or professional expectations are unmet by ourselves or another; an undesired, unexpected event occurs that is in conflict with what we want or planned."  I've had a few of those in my lifetime and know very well the toll it takes on time, energy, and self-worth.  My high hopes of experiencing the eclipse were tempered by the meteorological predictions that didn't favor clear skies on that day.  It's important to keep our expectations grounded in reality—what's the science behind this or what does the history of this person show us or what can we really afford?  I'm not sure it's our expectations per se that get us into trouble, but our attachment to them.  Those attachments can run deep and profound to the very soul of who we think we are.  But Nature teaches us that even in the certainty of summer morphing into fall, we can discover new surprises and see things in a different light—like we've never seen them before.  Expectations and possibilities with a grounding of reality—it's a recipe for an awe-inspiring eclipse (or not), a sweet summer, and an authentic life.