When I was in college, there were two girls named Ginger who lived in my dorm.  One Ginger was tall, dark-haired, and had a booming voice and personality.  She walked with swag and tossed her head like a racehorse at the starting line.  Wild Ginger majored in Physics or Engineering or something like that and would help guys with their homework, then go downtown and drink beer with them or anybody else who was up for it.  She was colorful, energetic, and noticed.  Quiet Ginger was also tall and smart, but I would say most people didn't notice her.  She didn't talk much and just blended in with her surroundings.  She seemed guarded, like something at one time had hurt her deeply, and so she hid herself for protection.  But when you talked one-on-one with her, she was funny, strong, and very charming in her own way.
I think all flowers are cool.  They are unique, intricate sculptures of petals, pistils, and stamens.  Many are colorful, showy, fragrant, and well-known to most people.  But there are a few Spring woodland flowers that one could easily walk past and not notice.  I was on my hands and knees weeding around this small Wild Ginger plant on the hillside of our woods.  Only after I had pulled some weeds away did I notice the small, dark red flower at the base of the plant!  What a crazy, beautiful, strange flower!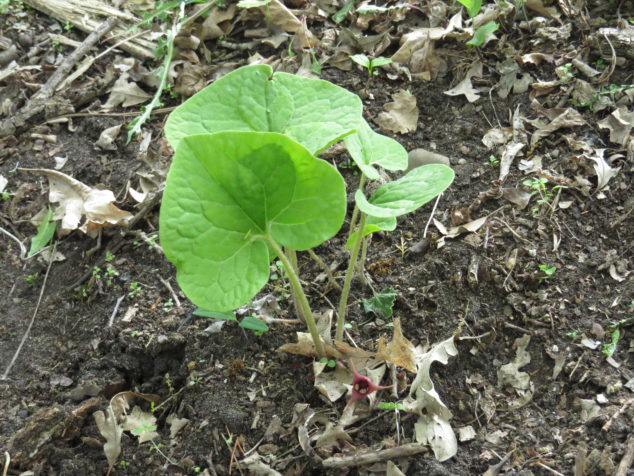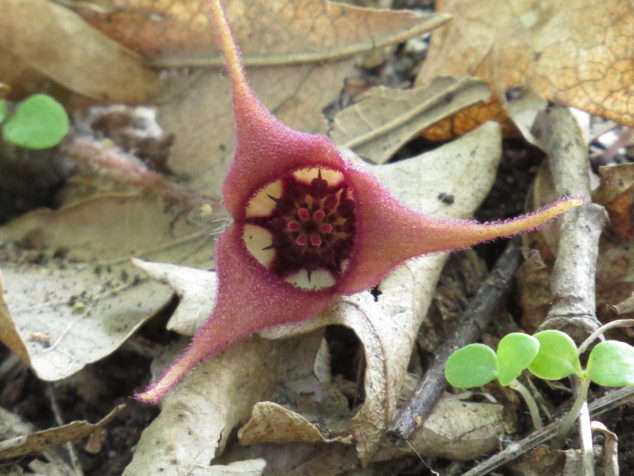 So I walked up the hill to where we had a larger, more established colony of Wild Ginger and pushed the dried leaves away from the base of the plants, and there were the hidden flowers!  Wild Ginger (Asarum canadense) is no relation to culinary ginger, though the Native Americans and later the settlers used the root as a seasoning and to treat colds and fever.  This low-growing, shade-loving ground cover with heart-shaped leaves is deer resistant, does not go dormant in the summer, and is an important food source for the Pipevine Swallowtail Butterfly.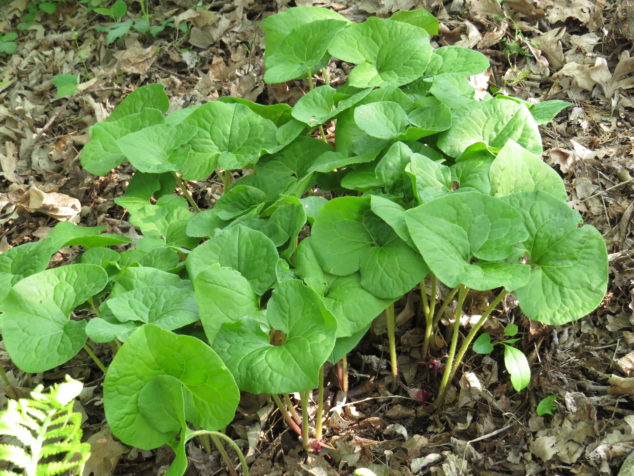 The flowers at the base of the plant attract small, pollinating flies that emerge from the ground in early spring.  The flies crawl into the flower for protection and to feast on the pollen, which they carry with them to the next flower.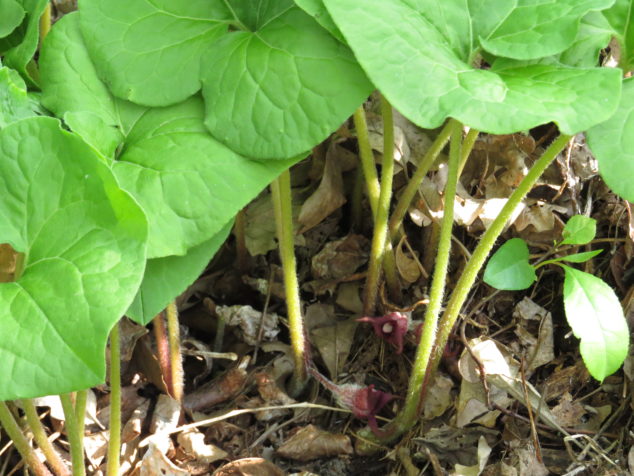 When the Wild Ginger seeds ripen, they have an oily appendage attached called an elaiosome, which attracts ants.  The ants carry the seed to their homes, consume the 'food' and leave the seed to germinate.  At least three different insects rely on the Wild Ginger plant with the quietly beautiful, hidden flower.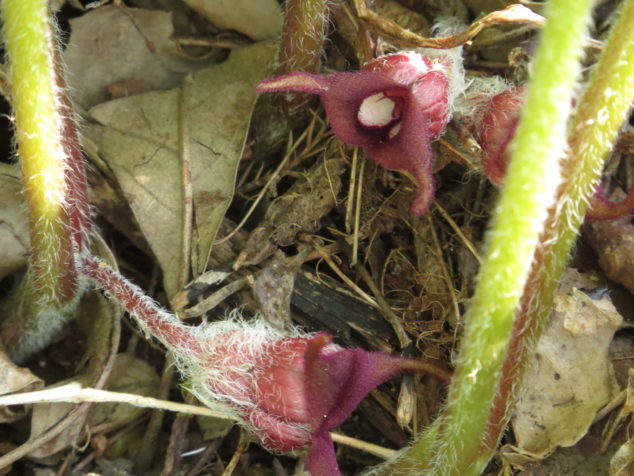 Another flower that is easy to walk past without noticing is the Jack-in-the-Pulpit (Arisaema triphyllum.)  Tubular, hooded flowers rise on their own stalks to the level of the large leaves that are divided into three leaflets.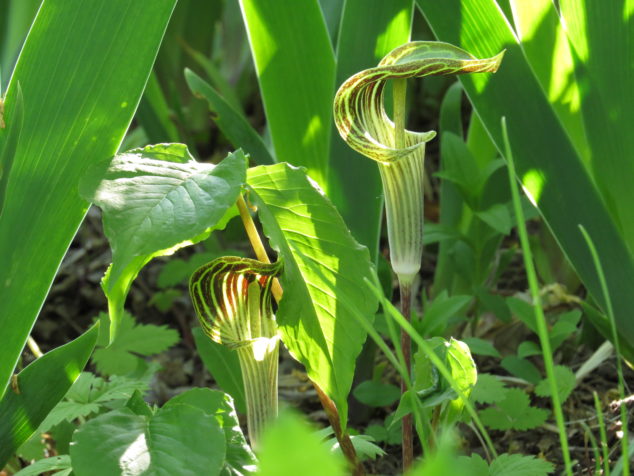 The flowers are green with brown stripes that blend in with the surrounding woodland foliage.  Jack-in-the-Pulpits are most noticeable in late summer when clusters of bright red berries form.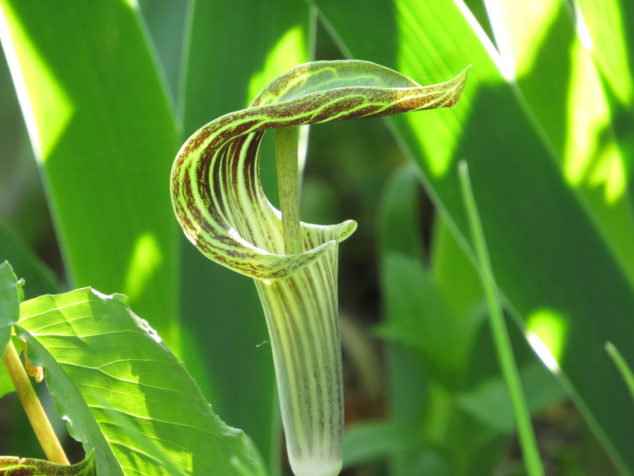 A third woodland flower that is easy to walk past is the Mayapple (Podophyllum peltatum.)  Mayapples are unique in that they only have two leaves and one flower which grows in the axil of the leaves.  Lovely umbrella-shaped leaves hide the pale yellow flower that later forms a yellow, edible fruit that can be used in jellies.  Mayapples die back in mid-summer in dormancy until the following spring.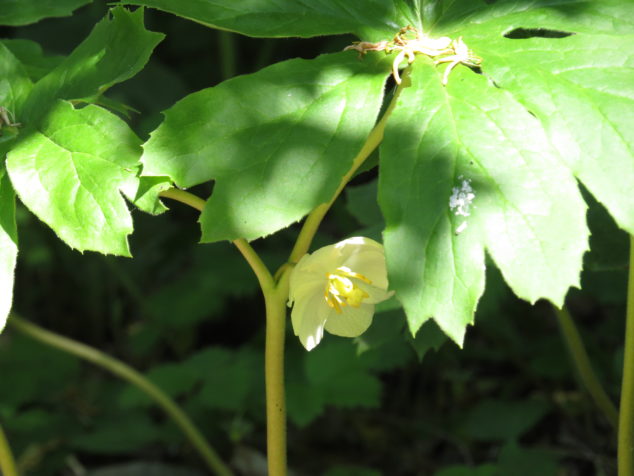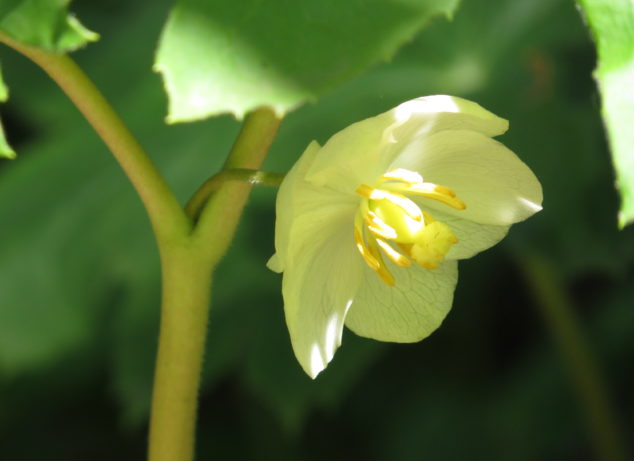 When we think of flowers, we most often bring to mind showy, colorful blossoms that attract attention and inspire awe.  These three Spring woodland flowers are not easily seen when walking by, but all have beautiful and unique foliage that is to be appreciated.  A closer look reveals the interesting, hidden flowers–a quiet splendor in the woodland world.  Getting to know the hidden treasures–whether flower or human–is worth the extra time and effort.  It will enrich your life with wonder and gratitude.