I'm planting a tree to teach me to gather strength from my deepest roots.  –Andrea Koehle Jones from "The Wish Trees"
The weeping willow tree was a magical fort in the corner of our yard.  The wispy walls hid us in the cool shade on hot summer days on the farm, and yet, with no trouble at all, we could burst through the 'walls' to the sunshine.  It was one of my favorite things about the South Dakota farm (along with the animals) when I was a young child.  Forty-five years later when I went back to see my first home, the magnificent weeping willow tree still stood in the corner of the yard.
Forests are the lungs of our land, purifying the air and giving fresh strength to our people.  –Franklin D. Roosevelt
I spent my school-age years in the tree-populated foothills of the Blue Mountains in Pennsylvania.  Our yard was scattered with old fruit trees–sour cherry, apple and pear.  A tire swing hung from the apple tree where I would sit and ponder all the things a child needs to ponder.  The woods behind our house was a wilderness of maple and sassafras trees, large boulders, a small creek, and plenty of poison ivy, but it was the perfect place for trails, forts, games, and pure air to fill our lungs and power our legs.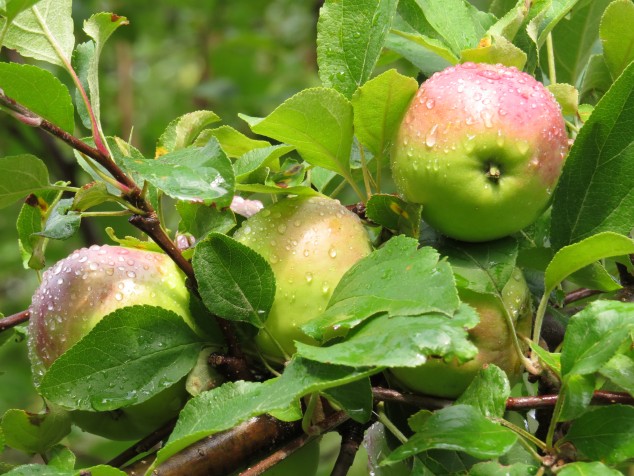 Then one day the boy came to the tree and the tree said, "Come, Boy, come and climb up my trunk and swing from my branches and eat apples and play in my shade and be happy."  –Shel Silverstein from "The Giving Tree"
A huge, old Elm tree stood between our yard and hay-field on our Missouri acreage.  It was the chosen spot, the perfect place for a tree house for our three young ones.  It was large and secure, yet so high up that it felt like you could touch the sky, sing with the birds, and dance with the wind.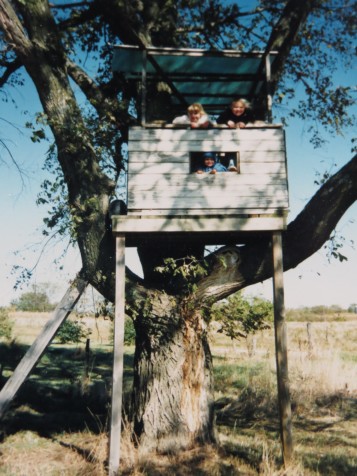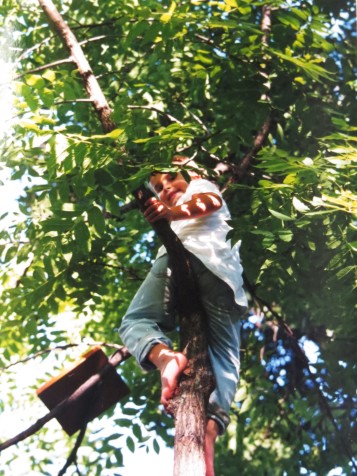 Trees are sanctuaries.  –Hermann Hesse
Cottonwood trees are giants of the prairie.  I was in graduate school back in South Dakota when I discovered an ancient old Cottonwood in a park where I would walk to clear my head.  From the road it just looked like 'one of the park trees,' but when I stood beside it, underneath it, I felt like I was in the presence of the Great Spirit.  The bark was deeply grooved and corky, and the roots that fanned out from the gigantic trunk, like spokes on a wheel, were as large as other trees.  At a certain time of the year, the cotton, containing the seed, would fall and glide and float away on the wind.  I would often stand with my back against the trunk thinking about all the history that had passed by this tree, all the storms that had pounded its branches, all the July festival-goers who had taken shelter under its shade, and all the seasons of harsh cold, gentle rains, singing summer leaves, and brilliant yellow foliage.
The creation of a thousand forests is in one acorn.  –Ralph Waldo Emerson
Back to this time and this place to the Old Beauty of an Oak tree that rises tall outside our bedroom window.  It is one of many oaks around us that produces acorns.  With a little help from Chris to keep the rabbits at bay, the acorns sprout into seedlings, who grow ever so slowly into saplings and ever so slowly into young trees…one day to be a sprawling Old Beauty.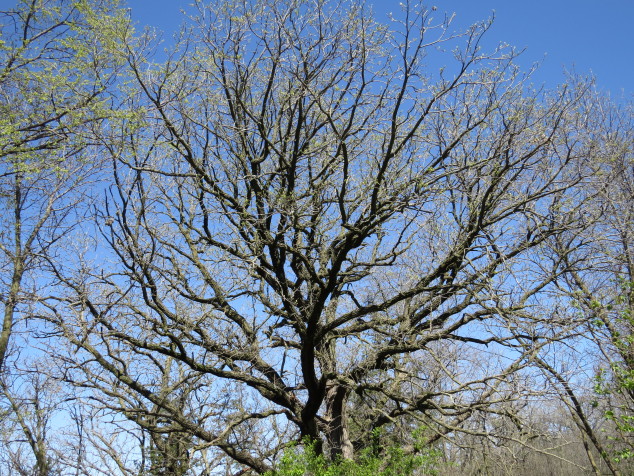 I would guess that most people have tree stories from their life's journey.  My childhood with trees brings back happy memories of play, imagination, and agility.  We were living, breathing companions, sharing oxygen and carbon dioxide, stability and freedom, and growth.  Then I married a 'tree man,' who even before I met him thirty-six years ago had already planted more trees than most people do in a lifetime.  Together we love, care for, and appreciate trees.  When our three children were growing up, trees were an integral part of their lives, and I know they have tree stories of their own.  And that ancient Cottonwood in the park–it gave me strength, perspective, and wisdom at a time in my life when everything else seemed to be falling away.  The seeds of our lives and the seeds of their lives–living together, not taking the gifts for granted, never underestimating the mutual need–all of us growing to become Old Beauty.