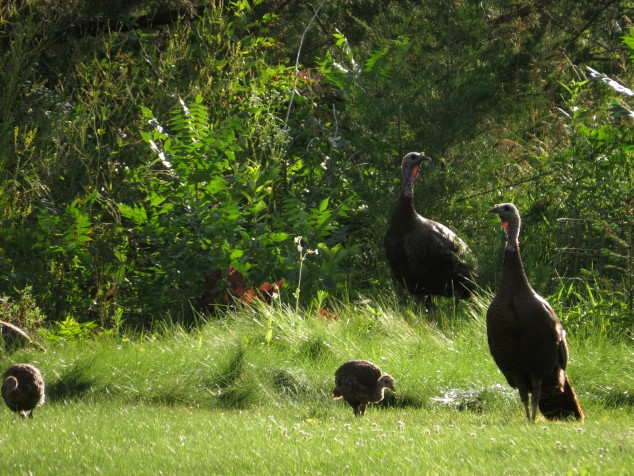 One bright morning while eating breakfast, I heard a car honk, so turned to look out the window.  A posse of turkeys was walking up the driveway into our yard.  Three adult females were herding countless young juveniles through the grass to a path by the blueberry patch that led into the cedar and oak woods.  Turkeys have excellent day vision–three times better than that of humans–so I'm sure they saw me move to the window with the camera.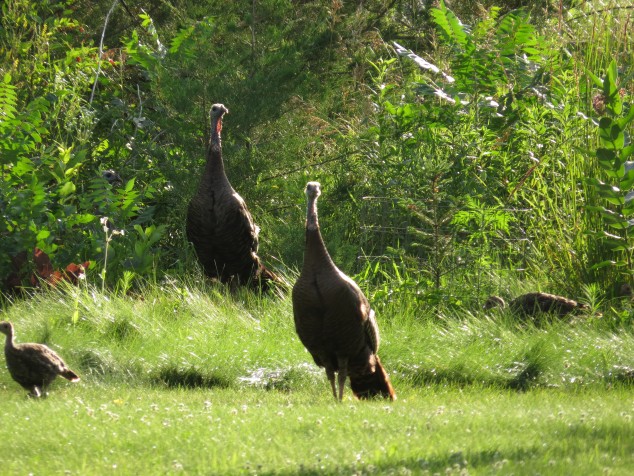 These mother/child groups of turkeys are known by many names–flock, raffle, gang, crop, and posse to name a few.  After spring mating and laying a clutch of 10-12 eggs in a shallow dirt depression nest, they incubate the eggs for 28 days.  The poults hatch and leave the nest within 24 hours, ready to travel with the posse and forage for food.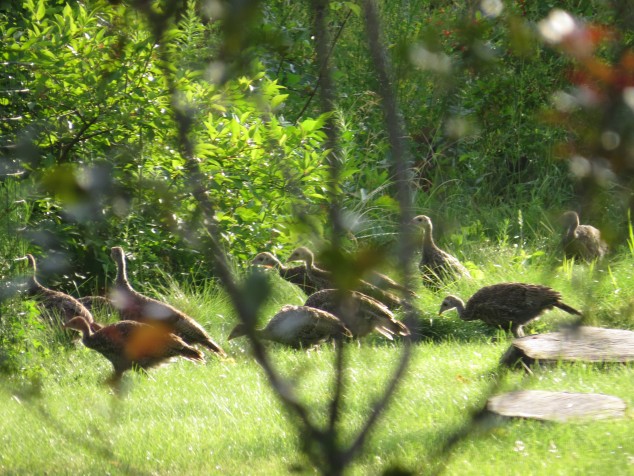 The young juveniles–male jakes and female jennies–eat grasses, seeds, nuts, insects, and fruit.  Adults also eat small salamanders and snakes.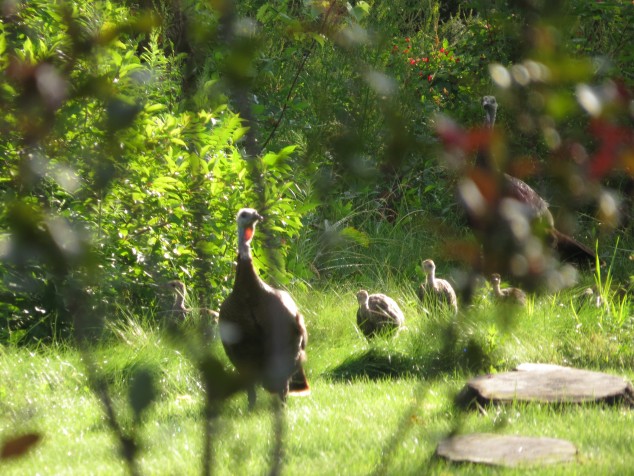 In the early 1930's the wild turkey population was on the verge of extinction, but thanks to conservation efforts the range and numbers of turkeys are greater than ever.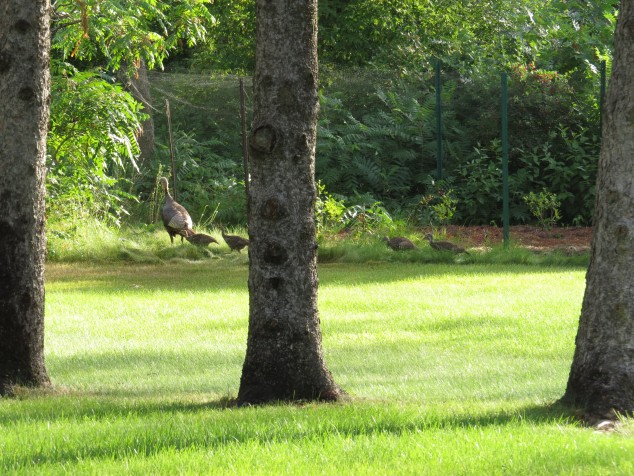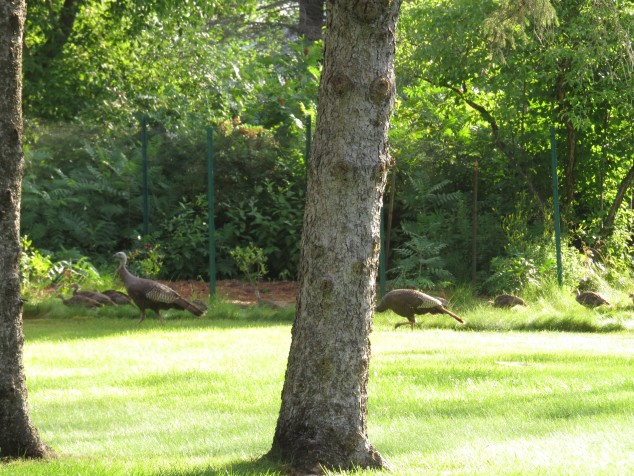 Turkeys can run up to 25 mph and can fly for short distances up to 55 mph.  They roost in trees at night.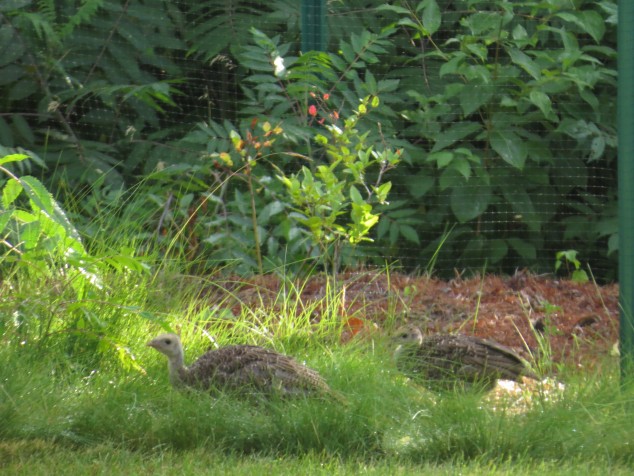 An adult tom or hen has between 5,000 and 6,000 feathers, many with an iridescent copper, gold, and bronze coloring.  Both sexes have a wattle under the chin and have a bare head that can turn red, white or blue with excitement or emotion.  Males have long spurs on their legs and a stiff beard growing from the chest.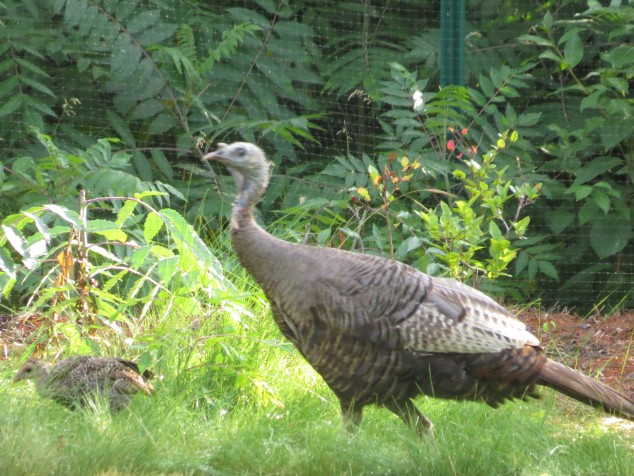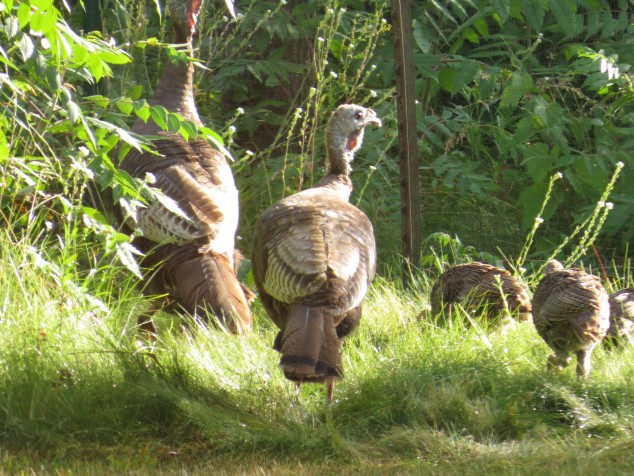 They walked into the woods, pecking at food as they went, with the females ever vigilant to protect their offspring.  Benjamin Franklin wrote that the wild turkey was a 'much more respectable bird' than the bald eagle when discussing the choice for the National Bird.  I feel privileged to have witnessed the families of both species in the last month.  Both are beautiful and impressive with unique characteristics and a dedication to parenting.  I'm glad this posse showed up at our home!